Namaste yogis,
It's no myth that yoga can work up a sweat, even though sometimes what we really want is to relax and meditate for a moment!
We usually don't need two sessions to understand that having a good yoga towel can be a real game-changer.
Well, you're in luck today because we've gathered the best 5 yoga towels trusted by true yogis:
TABLE OF CONTENTS:
Review of the 5 Top Yoga Towels
| | | |
| --- | --- | --- |
| Product | Construction Material |  Special features |
| | Xinjiang Cotton | Soft cotton material, Impurity detecting strips, Hyper absorbing power, self-cleaning, kills bacteria, and germs and odor repellent. |
| | 80% Polyester/20% Nylon top-quality microfiber | Durable, and super-absorbent microfiber. |
| | Ultra-Soft Microfiber | Highly versatile, pose with positivity, super soft and absorbent, and anti-slipping grip. |
| | Lightweight microfiber | Silicone-free technology, fast-drying, and slip resistant microfiber. |
| | Premium Microfiber | Exclusive corner pockets, innovative microfiber, matching carry bag, spray bottle. |
1. Mizu Towel – Best Overall Yoga towel
Have you ever thought about how great your yoga would be with the right towel to use? Mizu towel is just what you need! Mizu towel is a top-grade luxury soft towel made up of features that makes it the best smart bath and yoga towel in the world. The product is simply a durable and super soft towel made in Japan. It utilizes impurity-sensing and self-cleaning Xinjiang cotton with natural and pure silver fibers. It means this quickest drying towels doesn't hold in bacteria or odor. The Mizu towel from Japan is made to repel germs and odor longer than an ordinary towel.
This towel is hygienic and antibacterial; thanks to the bacteria prevention technology it features. This helps to prevent bacteria from surviving. These bacterial detecting towels are technically the most amazing non-slip yoga towel you will ever come across. It comes with a couple of sensing strips to alert of the need to wash it.
The strips change color after contact with bacteria, residual soap, oil, chemicals, fat, sweat, and more to show contamination. Interestingly you will know when it is time to wash the towel – just watch out for when the sensing strips change color. With this best water absorbing towel and fast-drying towel, you never have to worry about smelly or dirty yoga towels again!
What we like about Mizu Towel
Mizu towel offers incredible softness
Extra durability and versatile (it can be used anywhere)
Bacteria repellent
Impurity sensing and color-changing strips
Made of high quality material (Xinjiang cotton – best cotton in the world) 
Absorbs water faster 
Oversized for comfort
Holds water 5x its weight in water
What we don't like about Mizu Towel
No known complaint from users yet.
2. YogaRat Hot Yoga Towel – Top Quality Microfiber Yoga Towel
Perhaps you're the sweaty type of yogi, YogaRat Hot Yoga towel is just for you! It is one of the best yoga towels for yogis that practically tell you to sweat as much as you can; it can always handle it. This perfect non slip yoga towel is constructed of an 80% Polyester and 20% Nylon top-quality microfiber and at 600 GSM (grams per square meter) of fabric weight for extra soaking power.
Do you easily lose your grip on the yoga mat? YogaRat helps to enhance your grip as you generate heat and sweat; this, in turn, makes the towel stick more to the mat. The higher fabric weight makes the towel extremely comfortable as well as extremely absorbent. It is not only comfortable but also stylish and long-lasting.
What we like about YogaRat Hot Yoga Towel
Relatively affordable
The weight of the towel allows it to sit better on the mat
Great absorbing power
Very comfortable
Machine Washable
The microfiber material gives extra comfort 
Fits well with almost any yoga mat
What we don't about this Hot yoga Towel
Colour fading after some time
You will have to spray with water to enhance your grips
3. YogAffirmation Yoga Mat Towel – Best Ultra-Soft Microfiber Yoga Towel
Are you tired of the disturbing movement of the towel off the yoga mat? Well, let's consider YogAffirmation Yoga mat towel. These mat towels for yogis ensure your grips stay very firm. Its strong suede-like microfiber surface makes you stay in place with your poses when you are sweaty or not during your yoga session.
YogAffirmation Yoga Mat Towel comes with a small point silicone grip on the bottom for anti-slipping making it stay in place as you practice. Not only that, it is both ultra soft and super absorbent towel. This non slip yoga towel easily absorbs and wicks away your sweat as you those long steady poses. Additionally, this luxury soft towel for yoga session is not only great for yoga practices but also for activities such as pilates, laying on the beach, stretching, in the park, and for a picnic. It is as versatile as you can imagine it to be. Its lovely design and colors help to form with positive affirmations and aura to enhance your yoga practice. The colors are quite elevating – I must say!
What we like about YogAffirmation Yoga Mat Towel
Durable
Thicker than most other Yoga towels
Non-slip skid-free on the top surface
Fast drying
Anti-slip design reduces injury risks
Feels great on skin contact
What we don't like about this product
It tends to stretch after some time of use
4. Yoga Towel by Youphoria Yoga - Best Affordable Lightweight Microfiber Yoga Towel
Are you looking for durability and value? Youphoria gives you an excellent yoga towel. This sticky yoga towel is specially made to offer you a non-slippery and skid-less yoga practice. Does your sweat perhaps make your yoga towel slippery? That's not the same with Youphoria yoga towel. Instead, it is more grippy when it is wet, making it just perfect for your Bikram or Hot yoga sessions.
These sticky yoga towels are made of lightweight microfiber to absorb seven times their weight in water. You can wash on cold after each sweaty use, and place them in the dryer to be good again and get the best use out of it again in no time.
Youphoria yoga towel helps a lot in absorbing those excessive sweats, which could be a damaging factor for your yoga mat. The build of sweat can also turn your yoga mat into a bacteria-laden nightmare. Basically, this towel serves a hygienic layer between you and your yoga mat.
What we like about Youphoria yoga towel
Super Absorbent 
Slip Resistant Microfiber
Exceptional Quality
Perfect Size 
Latex Free
What we don't like about Youphoria yoga towel
Color tends to stain yoga mat
Needs to be washed every time
5. Heathyoga Non Slip Yoga Towel – Best Dual-grip Yogi Towel
Heathyoga Non Slip Yoga Towel is also another superb Yoga Towel that has caught our attention. Its dual grip feature is something to drool over. This sticky yoga towel can be flipped over as both sides can either be used. The towel for yoga is unique in its own way as not every yoga towel comes with the Dual-Grip two-sided feature. The microfiber and Silicone coating combination is one of the latest technological improvements that have been made to this traditional single microfiber yoga towel. The "grip-grid" texture of the yoga towel is specially designed and constructed to ensure stability and helps you hold poses longer and sturdier.
Another spectacular feature is the exclusive corner pockets specially designed to hook into your mat to give extra stability for the towel to staying in place as get fully engaged on it. This enhances the focus of the mind and body on your practice. You wouldn't want to start getting bothered about the towel slipping off the mat, but rather focus on what you're doing.
The sticky yoga towel is constructed with a super absorbent, moisture-wicking, and soft microfiber that absorbs moisture and sweat just like a sponge. This is just a solid choice for the sweaty yogi, more especially for Bikram, Hot, and Power Yoga practitioners. In fact, the more sweat it absorbs, the grippier the towel becomes, and of course, the better it is!
What we like about Heathyoga Non Slip Yoga Towel 
Corner pocket design
Dual grip feature
It comes with a matching carry bag and a spray bottle
Silicone coating
Absorbs and wicks off sweat faster
What we don't like about this Yoga Towel
Silicone coating may start to peel off
The use of fabric softener affects the grip
Reasons You Should Consider Choosing a Yoga Towel for Your Yoga Mat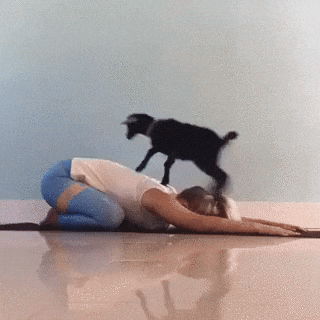 As a true yogi, you probably know how essential a yoga towel can be to your yoga session, and you will actually do yourself a lot of good by choosing the best for your practice. Here are some tips to hold on to as you look out for the best yoga towel.
A good number of yoga towels are made with microfiber fabric, which is quite an effective material for absorption of moisture and sweat. However, if you need the best water absorbing towels for your yoga session, the Japanese cotton bath towels are the perfect option. You must have a good absorbent yoga towel that absorbs moisture pretty well, especially during hot yoga or Bikram Yoga.
The Japanese cotton and microfiber fabric also help to prevent slipping during yoga practice. Putting a yoga towel over your mat is probably the best way to enhance you the slipping resistance and at the same time for comfort during yoga practice.
Another reason you should consider using a yoga towel on your mat is the extra comfort it offers. As a yoga practitioner, comfort is not something you would want to exchange for any other thing during practice. Most yoga mats may not provide enough cushioning as you desire, and that's where your yoga mat comes in. If you want good thickness and top-notch cushioning, the Mizu Towel can be a solid pick.
A lot of sweating happens during yoga; especially the hot yoga and you should consider getting a towel that would still be as strong as it is originally every time you wash it. The best yoga towels, such as Mizu Towels are highly durable and are usually fast drying as they can be washed and dried in no time.
This is one reason that should be considered as a top priority because an added grip is like the major reason you will want to get a sticky yoga towel for your mat. Yoga towels have some degree of slip resistance, which could serve as a plus with the slip resistance of the mat. Also, some yoga towels usually come with silicone nubs to grip the mat. Sometimes, to help some yoga towels with slip resistance, you might need just to sprinkle some water to give more traction.
Conclusion
A yoga towel is a necessity when it comes to achieving the most effective yoga sessions.
There are many yoga towels in the market but what most of them offers is just a bit of cushioning and zero to none grip. How about you get the best yoga towel for the best yoga session? Pretty sure that the little information provided would help you get the best yoga towel.
Namaste.